Cleaning of barrels, drums, wheelie bins or waste containers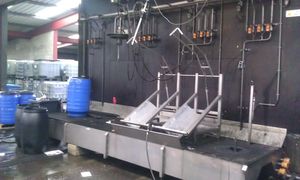 葛罗宁根 Cleaning Systems provides industrial cleaning installations that tilt and clean the interior of various types of trolleys, wheelie bins and barrels.
Once a trolley is emptied, it is driven into the machine, where it is automatically tilted and cleaned on the inside. Here, a rotating washer nozzle is used to quickly and effectively clean a container or two wheelie bins at a time.
Systems are available with various features and options which can be designed to suit specific needs. Additionally, operators have a choice of various cleaning programs with different cleaning times.
For open head barrels and drums, different systems and washer nozzle techniques are needed.
Cleaning of drums and open head barrels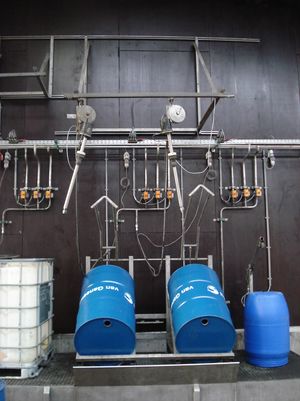 Because of the impact on the design of the cleaning installation, barrels should be split into drums and open head barrels.
Drums (fixed lid with 2 openings) are put in the installation on a rack or mobile frame at an angle, after which the washer nozzle is placed in the barrel. Thanks to a unique quick hitch system the nozzle doesn't slip from the drum during the cleaning process.
Barrels (loose lid) are placed upside down on a rack or on a mobile frame and held in place with a clamp. A horizontally and vertically rotating washer nozzle then cleans the barrel with hot or cold water to ensure optimal cleaning results. The waste water is then discharged to the sewer or treatment plant.
For both systems, the design of the installation is catered towards the challenges encountered in the cleaning process. 葛罗宁根 Cleaning Systems draws on its existing knowledge and experience to propose different types of customised solutions.
Cleaning systems for wheelie bins and trolley cleaning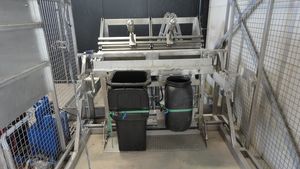 葛罗宁根 offers systems that are suitable for the following containers:
140, 240 liter minicontainers – wheelie bin (KAM system, lifted from top)
660, 750, 1100, 1300 liter trolleys (DIN system, lifted from side handles)
1000 and 1300 liter steel trolleys (Kronenburg lift)
The installations offer the following features:
Lifting and tilting of various types of containers
Interior cleaning using water under high pressure
Hot and / or cold water cleaning
Detergents dosage
Various wash programs (15 sec, 30 sec, 45 sec)
The exterior cleaning is often achieved using a short spray lance or wash brush.
Different options are available for the delivery of the system, such as in a modified 20 FT container, a stainless steel cabin, on a flat rack (20 FT container floor) or in the traditionally way, i.e. built in a new or existing wash bay.