Cleaning systems for plants: tanks / silos
Food and chemical plants use different types of tanks to produce a diverse range of products. CIP or low pressure systems are often used to clean these tanks. Traditional methods of cleaning are not often effective enough, which is why 葛罗宁根 Cleaning Systems offers a solution.
Production tanks cleaning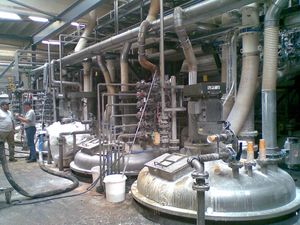 It appears that production tanks, reactor vessels and mixing and stirring equipment in particular still seem to contain residual waste after cleaning. Groninger Cleaning Systems offers an adequate solution and leave difficult to clean tanks a 100% clean.
The installations are assembled as follows:
High pressure pump units with a pressure range from 50 to 200 bar
Supply of cold or hot water (80 °C)
Dosage of hydroxide / disinfectants
Rotating washer nozzle(s) for internal tank cleaning
Automatic or manual entry of washer nozzle(s) in the tank(s)
Fully automated wash programmes
The system is suitable for the cleaning of mixing tanks, mixers, silos, tanks and pressure containers of various sizes.
The advantages of these cleaning installations are clear:
High reliability through its industrial design
Excellent cleaning results for heavily polluted tanks
Bulk silo's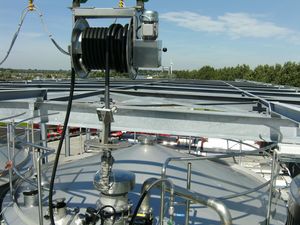 葛罗宁根 high pressure systems adequately clean certain types of silos. The water can touch the wall at full power up to a diameter of 6 metres. Larger silos therefore require a lower pressure and much higher volume of water.
This quick and effective solution is particularly suited to tall and narrow silos that regularly change products The combination of a smart design – moving the washer nozzle on a rail from one side to the other – and an automatic reel – using a programme to move the nozzle up and down through the silo and vice versa – ensure that an entire silo park can be cleaned with a single installation.
Mixing tanks cleaning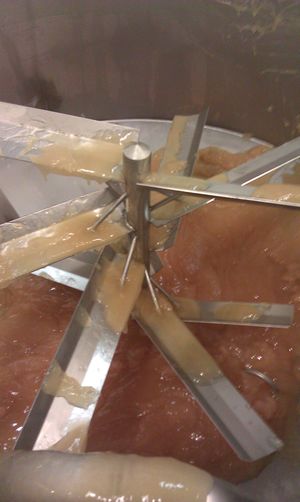 Tanks, barrels and production silos with 'obstacles' such as dispensing systems, mixers and mixing gear are perfectly suited for cleaning under high-pressure. Low pressure systems indeed use much more water and detergent to remove difficult stains in hard to reach areas. High pressure systems achieve better results with relatively little water and detergents as they solely work on the basis of water power.